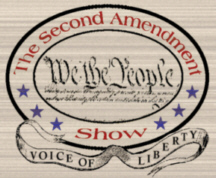 The Second
Amendment
Radio Show
The Second Amendment Radio Show is back on the air! We have moved to WYSL, 1040 AM, 92.1 FM. We are on their stations Wednesday at 8 PM, rebroadcast Saturday at Noon and 6 PM. The new format is 1 hour but we are looking to expand if we can secure more funding.
Tune In on Wednesdays at 8 pm , Saturdays Noon and 6:00 pm
WYSL - 92.1 FM and 1040 AM
or listen here 24/7, just click on the link below.
FOR IMMEDIATE RELEASE April 18, 2018
N.Y. CIVIL RIGHTS ACTIVISTS TAKE AIM AT THE FBI BEFORE THE NATION'S HIGH COURT
Webster , NY – Civil rights attorney Paloma A. Capanna announced the filing of a Petition for Writ of Certiorari to the United States Supreme Court in the case of Robinson, et al. v. Sessions, et al. The Petition requests permission to appeal to the nation's high court, a privilege granted to approximately 80 cases per term (year).
The case of Robinson v. Sessions concerns the civil rights of individuals who lawfully purchase a firearm through a federally-licensed dealer, using the NICS background check system. The government defendants have admitted it compares every firearms customer against the "Terrorist Screening Database," even though a NICS-to-TSDB match cannot result in the denial of the attempted firearms purchase. The Plaintiffs charge that this violates Brady Act restrictions on FBI use of a customer's personal information.
"This is outrageous," said Bill Robinson, lead Plaintiff. "The FBI has run more than 222 million background checks for firearms purchases against the Terrorist Screening Database without the legal authority to do so. The Brady Act guaranteed our right to privacy for the information we fill out on the ATF Form 4473. The FBI is violating the black letter of the law."
Capanna describes the case as "unusual" because the government has already admitted all of the material allegations made against it. " Robinson v. Sessions needs to be heard by SCOTUS because the FBI reads and quotes the law, but then does not follow it. If we can't stop the FBI's activities in this case where all the allegations are admitted, then we are one giant step closer to the implementation of a government super computer where all of your personal information is linked."
The case was dismissed in the lower courts. There, the judges said that the person who would have standing to bring such a lawsuit is a person alleged to be a "terrorist" as part of the TSDB. The Plaintiffs are asking SCOTUS to reverse and grant standing to proceed with the case on the merits to obtain a permanent injunction against the FBI, ATF, Terrorist Screening Center, and the U.S. Attorney General.
THE PETITION IS AVAILABLE ON LINE AT: https://law-policy.com/wp-content/uploads/2018/04/Robinson_PETITION_SCOTUS_filed-04172018.pdf.
PRESS CONTACT INFORMATION: Paloma A. Capanna, Attorney & Policy Analyst 633 Lake Road Webster , New York 14580 (585) 377-7260 (315) 584-2929 mobile www.Law-Policy.com
Marjory Stoneman Douglas
High School
Parkland, Florida Shooting
School Shootings and the Second Amendment
Ralph Esposito
First let me say that no one in their right mind feels anything but horror and sadness at the terrible tragedies when a sick individual commits multiple shootings. Our hearts go out to the victims and families of such evil.
Putting a sign up saying this school is a gun free zone is not an answer. Using emotional theater by parading the victims and their families crying for strict gun control is also not an answer.
Years ago many schools had shooting ranges. It was not uncommon to see children walking in the halls of many schools with their rifles to get to the rifle club practice -- yet there were no mass shootings.
The media talking heads will denigrate the Second Amendment in this debate. In truth the Second Amendment does not give us the right to own firearms; it affirms that we have a right to have arms and explicitly stops the government from infringing on our owning firearms.
United States v. Cruikshank (1875), the Court ruled that "[t]he right to bear arms is not granted by the Constitution; neither is it in any manner dependent upon that instrument for its existence. The Second Amendment means no more than that it shall not be infringed by Congress, and has no other effect than to restrict the powers of the National Government.
How do we as a nation keep our children safe while not giving up the Right to Keep and Bear Arms? There are many suggestions. They span everything from banning guns to armed guards and allowing teachers to legally carry their handgun. At the Second Amendment Radio Show and GOANY we do not favor any type of gun ban or restriction. Looking at other countries that have strict gun control we see mass shootings happening. Just remember the shootings in France. Not only fully automatic rifles but grenades were used.
The 10 ton elephant in the room is that no amount of gun control will stop bad people from getting their hands on guns, explosives, knives and other things they can use to kill. A gallon of gas can fuel your car for 20 or 30 miles of driving or used to burn down a house. It is not the object but the person and their intent.
Response to the tragedy
Budd Schroeder
1. Show empathy for the victims of the shooting.
2. Focus on the need for more attention to those who indicate a tendency for violence.
3. Pass a law to make it mandatory for school officials to alert law enforcement when they see a student who is showing tendencies for violent actions.
4. Stress the need for armed security in schools either by staff trained in proper responses and have the ability to be armed or having an armed person for security. That would add very little cost to a school budget.
Photographs of our Sponsor Businesses
| | | | | |
| --- | --- | --- | --- | --- |
| | | | | |
| NYS & National Gun control News | | | | |
| | | | | |
| | | |
| --- | --- | --- |
| | | Help Support cancer research at Roswell Park Cancer institute |
Streaming Audio in MP3 format for 56K modem and faster

Second Amendment Attorney
Paloma A. Capanna Attorney & Policy Analyst
633 Lake Road Webster, New York 14580
www.Law-Policy.com
585.377.7260 office 585.377.7268 facsimile

GOA NY The Civil Rights Restoration Act - PDF Document

Albany, New York, January 9, 2017 -- "The Civil Rights Restoration Act" will guarantee the civil rights of all to Due Process, Equal Protection, Privacy, Property, and Second Amendment. It will strengthen family, amending the definition of "immediate family" to include "parents, brothers, and sisters." It will honor religious freedom for those of the Amish faith, allowing them to provide fingerprints, where a photograph requirement otherwise precludes purchase of a long gun for hunting to feed their family and community. It will expand the right to counsel to men and women defending their handgun license from "mental health" allegations. It provides for notification to more than 600,000 people who have already been reported, in secret, to the NYS Police and the FBI under "mental health" and other, disqualifying provisions.

OF ROCHESTER

250 North Goodman St., 2nd Floor
Rochester, NY 14607
Ph. (585) 730-4041
Email: acwartillery@rochester.rr.com

Thursday, Friday and Saturday Noon - 4 pm
First Friday of the month Noon - 9 pm
?or by appointment

Our displays are designed to give our guests a glimpse into the different
periods of our military heritage.
Explore the stories and artifacts
that take you back into history!

Our collection covers U.S. military heritage from the War of 1812 through current times with a special focus on local veterans, stories and industries.

8419 State Route 54, Hammondsport, NY 14840, Phone (607) 569-2160

Open Sun to Sat 10 to 4 (Winter Hours)

The Glenn H. Curtiss Museum, bearing the name of Hammondsport's favorite son, is located on State Route 54, one half mile south of the village of Hammondsport, New York. Dedicated to the memory of pioneer aviator, Glenn Curtiss, the museum contains a priceless collection relating to early aviation and local history. The museum also features a 75-seat theater, large open area for special events and a museum store. In addition to seeing the museum displays and exhibits, visitors are welcome to visit the Restoration Shop, talk with volunteer craftsman and watch them work on historic aircraft.

Coming soon Historic firearms exibit on loan from the NRA

* * * * *

Press Release

On 10/3/2014, The State of New York Department of State Committee on Open Government issued a four page "advisory opinion." The Committee's opinion goes against Governor Cuomo's refusal to release NYSAFE Act information requested in FOIL filings

October 4, 2014

FOR IMMEDIATE RELEASE

Albany, NY – The Committee on Open Government dealt a significant blow to Governor Cuomo and the New York State Police through their October 3, 2014 Advisory Opinion that there is no legal basis for the refusal to release aggregate statistical information about the "assault weapon" registry. This on the same day that three, powerful supporters of the Second Amendment served the Governor and the NYS Police with Petitions to demand production of information in response to earlier demands made pursuant to the Freedom of Information Act during the past eight months. The groups filing suit are Gun Owners of America, the Shooters Committee for Political Education ("SCOPE"), and Bill Robinson (host of the syndicated "Second Amendment Radio Show").

The Committee's Advisory Opinion follows eight months of work by these groups to get responses to this and other requests related to the 2013 SAFE Act. Although as a matter of procedure, it is generally the state agency that sends copies of the agency appeal papers to the Committee, the groups submitted its own copies to make sure that the Committee was informed of the difficulties they were experiencing.

The 4-page Advisory Opinion by the Committee could not be more clear: "…it is our opinion that disclosure of aggregate data or that which can be derived from the collected records and reported without identification of individual licensees is subject to disclosure under the Freedom of Information Law."

"We are thrilled with the Opinion of the Committee on Open Government," said Bill Robinson, whose weekly radio show is heard across New York from WYSL AM1040. "The work of the independent Committee on Open Government is particularly vital in a state like New York where the Governor says 'transparency' but then hides from basic questions."

Larry Pratt, Executive Director of the national organization Gun Owners of America pointed out, "Connecticut and Colorado released their registration information promptly upon deadline. It has been amazing to think that a state like New York has forced us to undertake so much legal work to try to gain such basic information." Gun Owners of America has more than 750,000 members across the U.S. , including in New York .

The FOILs submitted by SCOPE originated with 33 of its members in Monroe County , who wanted to ask a list of questions around the State Police "Field Guide" and website. Stephen J. Aldstadt, the statewide President of SCOPE, added, "The timing of the Opinion of the Committee on Open Government relative to our filing and service of the court cases to enforce our requests could not be more appreciated. It will underscore for the Supreme Court the appropriateness of our requests."

The Opinion also excited George Rogero of the Orange County Shooters, who last year submitted a similar FOIL, which was also denied. Rogero, who blogged about his experience, had literally put out an all-call for an attorney to proceed with the matter into a courtroom. As George Rogero said, "You shouldn't have to hire a lawyer to get basic information from your government. The Freedom of Information request is the most basic of our ways to address our government, to learn information, and to fulfill our duties as an active citizenry in a democracy."

The three lawsuits filed under New York Civil Practice Law & Rules Article 78 are returnable at the Albany County Supreme Court on Friday, November 7, 2014 at 9:30 a.m. Oral arguments are expected.

FOR INQUIRIES :

Bill Robinson, Co-host Second Amendment Radio Show
(585) 244-8832 http://www.2ndamendmentshow.com/

Larry Pratt, Executive Director Gun Owners of America
8001 Forbes Plaza , Suite 102 Springfield , Virginia 22151
(703) 321-8585 http://www.gunowners.org/

SCOPE Stephen J. Aldstadt, President
8316 Irish Road Colden , NY 14033
(716) 941-3286 www.SCOPEny.org

George Rogero
(845) 781-0839 http://OCshooters.com
http://OCshooters.com/blog/

On 10/3/2014, The State of New York Department of State Committee on Open Government issued a four page "advisory opinion." The last two paragraphs state:

"Accordingly, due to the lack of reference in the statute, the statue's purpose of protecting applicants from harm, and legal precedent from the highest court requiring specific statutory authority, it is our opinion that disclosure of aggregate data or that which can be derived from the collected records and reported without identification of individual licensees is subject to disclosure pursuant to the Freedom of Information Law.


In our opinion, none of the discretionary exceptions appearing in §87(2) of the Freedom of Information Law would permit the State Police to deny access to aggregate data regarding firearm and assault weapon permits reported without identification of individual applicants. On the contrary, we believe that data of that nature must be disclosed pursuant to § 89(2)(g)(i), which specifies that "statistical or factual tabulations or data" contained within internal agency records be disclosed. Accordingly, it is our opinion that such non-identifying data is required to be disclosed upon request."

Bill's Big Border Adventure
Bill took a trip to the US - Mexico border to see Glen Spencer.
Here are links for two videos. and photos
For more pictures and information
click here to go to Homeland Security and straight Talk
VIDEO
Click on the links below, videos are on YouTube

Part 1 Glenn Spencer of American Border Patrol

Part 2 Glenn Spencer of American Border Patrol

Web site link - American Border Patrol

Glenn Spencer is the president and founder of American Border Patrol. American Border Patrol is the only non-governmental organization (NGO) that monitors the border on a regular basis. For more information go to: www.americanborderpatrol.com

American Border Patrol
2160 E. Fry Blvd. #426
Sierra Vista, AZ 85635
Phone 520-803-7703 or 800-600-8642 - FAX 520-803-773

Ranch operations
American Border Patrol
11720 S. Border Monument Rd.
Hereford, AZ 85615
E-mail: info@americanborderpatrol.com

Web site - www.americanborderpatrol.com

US - Mexican Border


2 Border patrol trucks

Wayne's old spread

A closer look at Wayne's old spread

On the MEX/US/AZ border. River crossing & tank & car barrier. The San Pedro River


Our formidable border fence. OK stop laughing!

Another section of the fence.

Unmanned drones can guard the border

Glenn Spencer showing his unmanned border detection system

One of the drones

Glenn Spencer and visitor

Glenn's drones will automaticly launch when the unit detects any intrusion. The drone will fly to the area and transmit video back to the control station.
Pictures of Nacos, Nogales and more border towns
Bill meets Arizona's Sheriff Joe Arpaio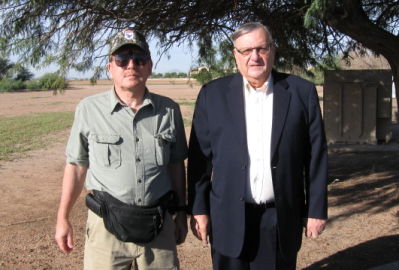 Sheriff Joe Arpaio of Maricopa County, Arizona with Bill. Sheriff Joe has been a thorn in the side of the Obama Administration for his view that the border means something more than a turnstile for illegal immigrants to flood the United States.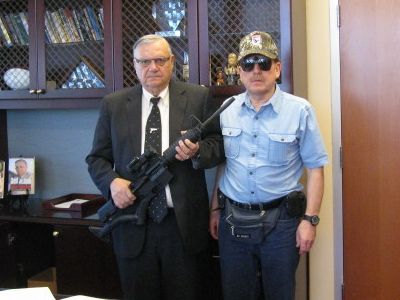 Bill presented him with a NYS Compliant AR-15, red dot scope & a 10 round
magazine similar to the one presented to Sheriff Babeu on his last visit.
Arizona (Maricopa Co.) is now a SAFE place to live.
Everyone in Arizona can sleep safely again.
Bill meets Arizona's Sheriff Paul Babeu

Sheriff Paul Babeu of Pinal County, Arizona. Bill presented the Sheriff with a NY legal AR-15, including a 10 round mag. Arizona Democrats now feel safer knowing the law has an AR that holds 10 rounds.
(Please don't tell the drug cartels and other criminals they might laugh)

Photos of a small portion of confiscated drugs in Pinal Co., AZ They average 50,000 lbs of illegal drugs per year.

They also get several hundred confiscated
cars and trucks per year.




Question - What did the US illegally export to Mexico?

Answer - Thanks to the Obama Administration and Eric Holder, US Attorney General, The US exported thousands of illegal guns to Mexico. Many were used in crime and killings on both sides of the border. This was an effort to track illegal gun smuggling and propose more gun control in the US. Well the guns got to the drug cartels and criminals and no arrests were ever made. Holder did try to push more gun control, it failed once the outragious plan was uncovered. The body count is still rising from this bloody adventure.

Guns Don't Kill People

Drug Cartels and Criminals
who buy their guns from
the Obama Administration
Kill people

The 2015 Constitution Day Dinner
2015 Monroe County Clerks
of the Year
Cheryl Dinolfo, Monroe, Frank Merole, Rennselaer, Micheal Jankowski, Wayne, Linda Compton, Schuyler, Chris Jacobs, Erie, Don Read, Genesee, Matthew Hoose, Ontario, M. Indica Jancox, Schoharie.

Brian Kolb, Master of Ceremonies

Shannon Joy & Barbra Collins
accepting for Bill Nojay,
2015 Patriot Award

Paloma Capanna, 2015 Patriot Award

Peter Haidt, 2015 Patriot Award

Dr. Bob Savage , 2015 Patriot Award

Charles Schiano, 2015 Madison Award

Cheryl Dinolfo, Monroe County Clerk

Keynote Speaker

The Patriot of the year

The Vermin of the year:
The Vermin of NY
Congratulations Governor Andrew Cuomo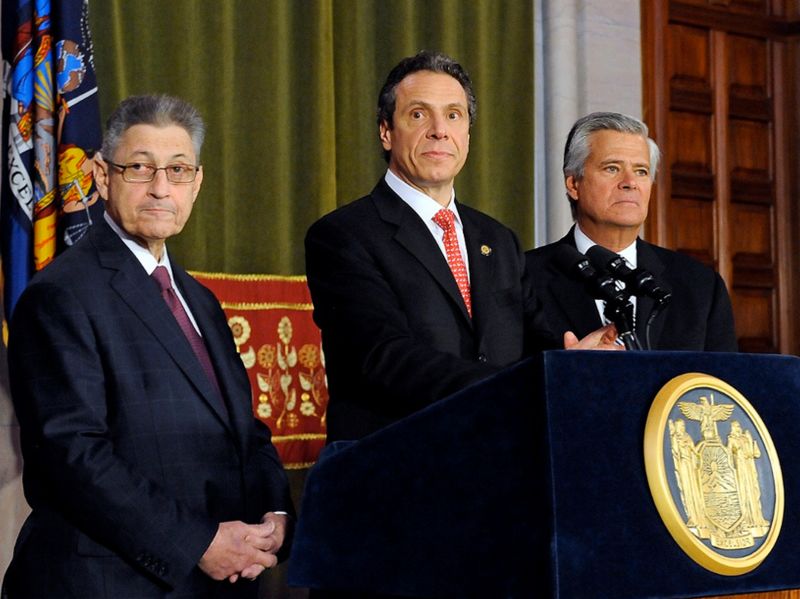 Gov posing with the ex leadership of the NY Senate and Assembly.
Photo courtesy of governor.ny.gov

The Show:
The Second Amendment Show is now in its fourteenth year on the air. Hosts Ralph Esposito and Radio Fred bring our audience the latest local, state and federal news and information about issues related to politics, the Constitution, firearms and the Second Amendment. In addition, we have interesting and diverse guests including local, state and federal politicians, and representatives from SCOPE, SAF, NRA, GOA, JPFO, LEAA and others. Additionally we feature our business advertisers to showcase their business and products while giving helpful information to our audience.
If you are interested in advertising on, donating to, or helping sponsor The Second Amendment Show please Contact us.

Our Mission:
To inform the public about social and political issues that effect our society, civil and Constitutional rights, including the Second Amendment right to keep and bear arms.
To educate the public about gun control issues and firearm safety.
To offer a public forum for discussion of important political and social issues including Second Amendment rights.

Help Sponsor the Second Amendment Radio Show
Please send your check made out to the Second Amendment Show and mail it to:
2A Show C/O Ralph Esposito
100 Boardman St.
Rochester, NY 14607
Thank You

The American Sportsman
(585) 586-8320

Avon Gun

and Hunting Supply

Jim behind the counter

Some of Avon Gun's large stock
of guns and accesories

Beikirch's East Rochester, NY Location

Canandaigua Sportsmen's Club
(585) 394-0348

Hol-Field Rod & Gun Club

(585) 657-6323

Jay Ve Tackle
(585) 266-0880

KIRWAN'S GAME STORE

369 Main St, Catskill, NY
(518) 719-0091

Visit one of the jewels of New York State in the heart of the beautiful Catskill Mountains.

Stan and Suzanne, owners of the Barvarian Manor.
Lynn, manager of the pub.

We offer 150 years of hospitality experience. You will note a certain European atmosphere along with it's Catskill Mountain essence. Stan and Suzanne are 3rd generation family innkeepers keeping tradition alive. . For more history visit www.bavarianmanor.com.

There are 18 bedrooms , a cocktail lounge and a full service restaurant on it's 100 acres. All rooms feature private bath, cable tv, free wi-fi, a/c, in-room coffee, alarm clocks (if you really have to), all but the "cozy/charming" category have mini-fridges, some have jetted bathtubs and fireplaces. Each staff member is carefully hired and encouraged to make each guest comfortable.

Turnbull Manufacturing Co.
(585) 657-6338

Buffalo Gun Center
(716) 833-2581

Northside
Salvage Yard
585-381-9667

A great place for used auto parts inc. low milage tires, batteries, auto parts of
all sorts - all at discount prices.

John Sabastian

Joe and Brad at the counter
OPFOR NY- Personal Defense and Firearms Training
Nestled in the NY Finger lakes region, 50 miles from Rochester, NY. Come for a day course or weekend series including basic gun safety, long range shooting, personal defense, and more.
Professional NRA Certified Instruction
Rifle - Shotgun - Handgun - Safety
We offer:

* Private Ranges

500, 200 and 25 Yards

* Defensive Security Scenario Range

* One and two day programs

* Video and photo diagnosis

* Day and night hiking/orienteering

* Meals package available
Call Bill at 585 413-6340
Listen to the Show, Contact us, Events, Links: SCOPE, SAF, NRA, GOA, JPFO, LEAA
This site is best viewed in 800X600 mode. All content, graphics and photographs on this site are copyright © 2005 by the Second Amendment Show.