The Homeland Security and Straight Talk radio show is on WYSL

Mondays 8 - 9pm, Saturdays and Sundays 7 - 8pm
We bring you the real issues of Homeland Security, borders, language, culture (ala Dr. Savage), economy and education. With guests who know the real story and fight for our country in our streets, in the trenches, on the borders and not sitting in the ivory towers.
VIDEO LINKS
Latest on NY SAFE Act lawsuits
The 2015 Constitution Day Dinner
2015 Monroe County Clerks
of the Year
Cheryl Dinolfo, Monroe, Frank Merole, Rennselaer, Micheal Jankowski, Wayne, Linda Compton, Schuyler, Chris Jacobs, Erie, Don Read, Genesee, Matthew Hoose, Ontario, M. Indica Jancox, Schoharie.

Brian Kolb, Master of Ceremonies

Shannon Joy & Barbra Collins
accepting for Bill Nojay,
2015 Patriot Award

Paloma Capanna, 2015 Patriot Award

Peter Haidt, 2015 Patriot Award

Dr. Bob Savage , 2015 Patriot Award

Charles Schiano, 2015 Madison Award

Cheryl Dinolfo, Monroe County Clerk

Keynote Speaker

Bill's Big Border Adventure
Bill took a trip to the US - Mexico border to see Glen Spencer.
Here are two videos and a few of the photos he shot.
VIDEO
Click on the links below, videos are on YouTube

Part 1 Glenn Spencer of American Border Patrol

Part 2 Glenn Spencer of American Border Patrol

Web site link - American Border Patrol

Glenn Spencer is the president and founder of American Border Patrol. American Border Patrol is the only non-governmental organization (NGO) that monitors the border on a regular basis. For more information go to: www.americanborderpatrol.com

American Border Patrol
2160 E. Fry Blvd. #426
Sierra Vista, AZ 85635
Phone 520-803-7703 or 800-600-8642 - FAX 520-803-773

Ranch operations
American Border Patrol
11720 S. Border Monument Rd.
Hereford, AZ 85615
E-mail: info@americanborderpatrol.com

Web site - www.americanborderpatrol.com

US - Mexican Border


2 Border patrol trucks

Wayne's old spread

A closer look at Wayne's old spread

On the MEX/US/AZ border. River crossing & tank & car barrier. The San Pedro River


Our formidable border fence. OK stop laughing!

Another section of the fence.

Unmanned drones can guard the border

Glenn Spencer showing his unmanned border detection system

One of the drones

Glenn Spencer and visitor
Nogales Arizona, Border Town
Nogales

International Airport

Extingish all joints, hash pipes and bongs as we prepare to land at Nogales International.

Naco Arizona, Border Town

Sasabe Arizona, Border Town

Douglas Arizona, Border Town

Mexican government building.

It was built by YOU, the US tax payer, We PROVIDE 90% of the funding to build it..



Village of Arivaca, Arizona

Historic Ruby Arizona Old Mine/Ghost Town.
N ear Village of Arivaca
Bill meets Arizona's Sheriff Joe Arpaio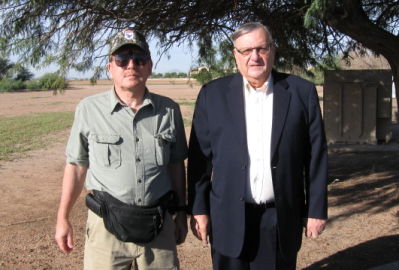 Sheriff Joe Arpaio of Maricopa County, Arizona with Bill. Sheriff Joe has been a thorn in the side of the Obama Administration for his view that the border means something more than a turnstile for illegal immigrants to flood the United States.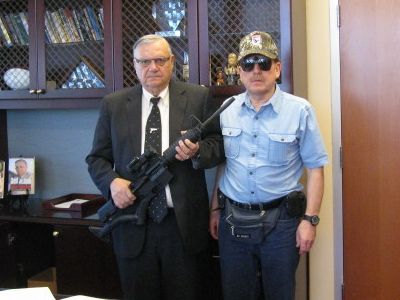 Bill presented him with a NYS Compliant AR-15, red dot scope & a 10 round
magazine similar to the one presented to Sheriff Babeu on his last visit.
Arizona (Maricopa Co.) is now a SAFE place to live.
Everyone in Arizona can sleep safely again.
*
Video of Steve Klien at the border * Video of the border
If you are interested in more of Steve Klien's commentary.
NOTE: Steve Klien's views are not those of
the Homeland Security and Straight Talk show or WYSL.
Bill meets Arizona's Sheriff Paul Babeu

Sheriff Paul Babeu of Pinal County, Arizona. Bill presented the Sheriff with a NY legal AR-15, including a 10 round mag. Arizona Democrats now feel safer knowing the law has an AR that holds 10 rounds. (Please don't tell the drug cartels or any other criminals they might laugh)

Photos of just a small portion of the illegal drugs that are seized in Pinal Co., AZ. They average about 50,000 lbs every year.

They also seize several hundred cars and trucks per year that were used in illegal activities - aka drug running.




Enough to make several Cheech and Chong movies!

Every ounce a pound of human misery...


The Patriot of the year:

The Vermin of the year:
The Vermin of NY
Congratulations Governor Andrew Cuomo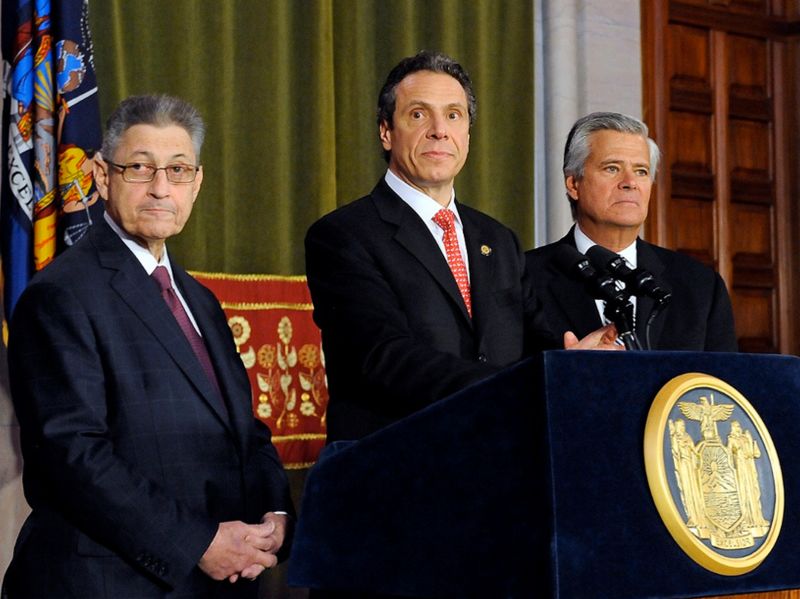 The Gov posing with the ex leaders of the NYS Senate and Assembly.
Assembly Majority Leader Sheldon Silver and Senate Majority Leader Dean Skelos have been arrested for corruption. Gov. Cuomo you may be next!
Photo courtesy of governor.ny.gov

If you are interested in advertising on, donating to, or helping sponsor
The Homeland security and Straight Talk Show please Contact us.
Our Sponsers
KIRWAN'S GAME STORE

369 Main St, Catskill, NY
(518) 719-0091

Our Mission:
To inform and educate the public about social and political issues
that effect our society, civil and Constitutional rights,
including the Second Amendment right to keep and bear arms.
To offer a public forum for discussion of important political and
social issues including Second Amendment rights.


OPFOR NY- Personal Defense and Firearms Training
Nestled in the NY Finger lakes region, 50 miles from Rochester, NY. Come for a day course or weekend series including basic gun safety, long range shooting, personal defense, and more.
Professional NRA Certified Instruction
Rifle - Shotgun - Handgun - Safety
We offer:

* Private Ranges

500, 200 and 25 Yards

* Defensive Security Scenario Range

* One and two day programs

* Video and photo diagnosis

* Day and night hiking/orienteering

* Meals package available
Call Bill at 585 413-6340
Listen to the Show, Contact us, Events, Links: SCOPE, SAF, NRA, GOA, JPFO, LEAA
This site is best viewed in 800X600 mode. All content, graphics and photographs on this site
are copyright © 2014 by the Homeland Security and Straight Talk Show.